The Stand Up Paddle, or SUP, is a new sliding sport that can be practiced on rivers.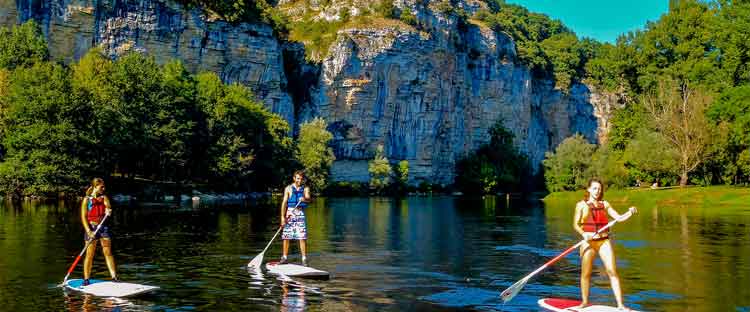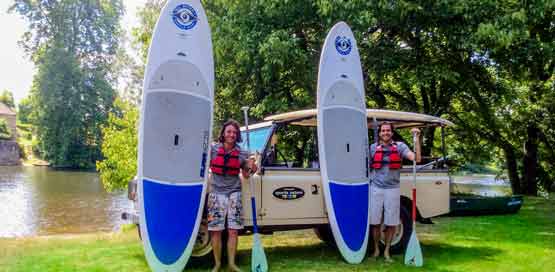 One condition: You must know how to swim.
RENTAL STAND UP PADDLE DORDOGNE
Do you want to be one with nature? Are you a fan of new aquatic sensations?
So why not try and practice Stand Up Paddle, commonly known as Paddle, activity that has become trendy in recent years.
In the Dordogne valley, you will have the chance to paddle on rivers and lakes. Indeed, the natural environment is perfectly adapted to the amateurs of Stand up Paddle.
The equipment used: wide board with 3 fins, a paddle, neoprene suit (depending on the season), a lycra. A lifejacket will be provided to ensure your safety.
Unlike surfing, paddle is fun and accessible to all and does not need to be experienced: it consists of moving on the water standing on a large board, using a paddle.
You will see for yourself if you want to have a sporting experience or conversely, more peaceful with your paddle.
Stand up paddle boards are longer and wider than those used for surfing, allowing for greater stability. They promote a softer and quieter ride than canoe, which allows you to enjoy the scenery and observe the wildlife in peace. Walks solo or family transfers, you will find feelings of sliding that you will remember.
Initiation or descent, accompanied by a monitor, from 7 years, come to experience new sensations on the Dordogne.
It remains essential to know how to swim for the rental of Stand up Paddle.