Canoeing on the Dordogne river from 2 to 5 days, in total freedom.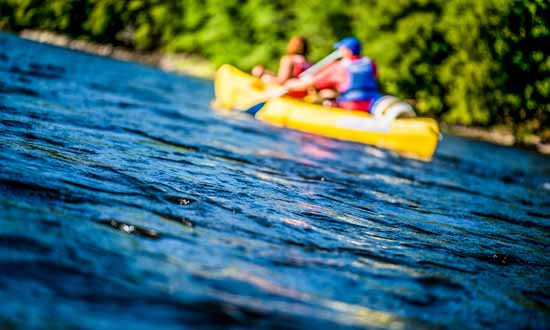 Depending on your wishes, from Tauriac or Argentat-Monceaux, choose the route that suits you the most. We drive you to the starting point on the first day and drive you back to your vehicle at the end of your journey.
You manage the stopovers at will and camp wherever you want, but you can also follow our advice.
Our rates include the rental of a two-seater canoe, paddles, waistcoats and one 50-liter container per person.
As an option, we also offer tents with waterproof bags and self-inflating mattresses.
Unguarded private car park on our base camp in Gluges.
Dogs allowed at no extra charge.
2 days
Tauriac – Pinsac. 35 Km. 44€ / person
D1 : Departure at 9.30 to Tauriac
Tauriac – Creysse. 22 Km or Tauriac – Gluges 16 Km
D2 : Creysse – Pinsac 13 Km or Gluges – Pinsac 19 Km
Back
3 days
Argentat Monceaux – Saint-Sozy. 59 Km. 66€ / person
D1 : Departure at 9.30 to Argentat Monceaux.> Beaulieu sur Dordogne. 21 Km.
D2 : > Carennac. 18 Km or >Vayrac
D3 : Carennac – Saint-Sozy. 20 Km or Vayrac – Saint-Sozy
Back
4 days
Argentat Monceaux –Souillac. 74 Km. 88€ / person
D1 : Departure at 9.30 to Argentat.– Beaulieu s/ Dordogne. 21 Km.
D2 : > Carennac. 18 Km or > Vayrac. 22 Km
D3 : > Saint-Sozy. 20 Km or > Creysse. 12 Km
D4 : > Souillac. 15 Km
Return to your vehicle
5 days
Argentat Monceaux –Saint Julien Lampon. 86 Km. 110€ / person
D1 : Departure at 9.30 to Argentat Monceaux > Beaulieu sur Dordogne. 21 Km.
D2 : > Carennac. 18 Km or > Vayrac. 22 Km
D3 : Carennac – Saint-Sozy. 20 Km or Vayrac – Creysse. 12 Km
D4 : Saint-Sozy – Souillac. 15 Km or Creysse –Pinsac. 14 Km
D5 : Souillac – St Julien Lampon. 12 Km or Pinsac – St Julien Lampon. 17 Km
Return to your vehicle